Skip to Content
Check Engine Light On? We'll Check It for Free!
Call for a Free Appointment! No Obligation.
Place Your Trust in Our Skilled Mechanics
Our mechanics are here when your lurches and grinds to a halt. We're ready when you need new brakes, suspensions, or an oil change. AAMCO Des Moines, IA is an all-purpose auto and transmission repair shop serving Des Moines, IA and the surrounding area. We're proud to associate ourselves with the national AAMCO brand, but we are even prouder of our loyalty to our customers and our mom-and-pop style of customer service. We offer free check engine light inspections, and all appointments are free. There is no better place to turn to for honest, dependable, and speedy repairs – no matter the make and model of your vehicle.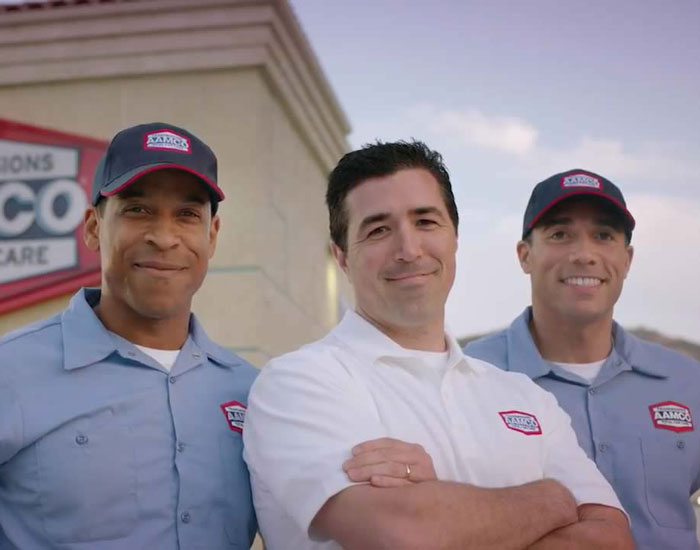 Why Choose AAMCO Des Moines, IA
AAMCO is synonymous with excellence in automotive repairs throughout the country and the Des Moines area. AAMCO has served customers faithfully since 1967, ensuring it is a trustworthy brand. We take our membership in the company's family seriously, and there is no shortage of reasons to trust our team. They include:
Nationwide Warranties: AAMCO backs all auto repairs with a nationwide warranty that follows you wherever you and your vehicle go.
State-of-the-Art Diagnostics: We don't get lost in the weeds with guesswork and trial-and-error. Instead, we use technology to diagnose problems.
Scheduled Maintenance: Factory and local car dealership maintenance is pricy. We build relationships through excellent scheduled maintenance.
Transmission Experts: We are best known for our transmission repair abilities and work on all makes and models.
Fleet Service Contracts: We can manage your company's fleet, ensuring you never have downtime and serve your customers.
Payment Plans With No Credit Check
Place Your Trust in Our Team's Expertise
Each of our mechanics receives extensive when hired to work for us, and they come to us with the experience needed to hit the ground running. When our professionals open the hood, you can trust that you and your vehicle are in good hands. They are adept at using our diagnostic equipment and know-how to repair everything from cars, trucks, and SUVs to skid steers. Additionally, if you cannot pay for your repairs out of pocket, we offer a no-credit needed financing package (upon qualification).
Schedule Your Appointment Today!
Book Your Car Repair Service
Phone
Address
3416 SE 14th Street
Des Moines, IA 50320
Hours of Operation
Monday: 7:30 AM – 5:30 PM
Tuesday: 7:30 AM – 5:30 PM
Wednesday: 7:30 AM – 5:30 PM
Thursday: 7:30 AM – 5:30 PM
Friday: 7:30 AM – 5:30 PM
3416 SE 14th St, Des Moines, IA 50320, USA